The Founder of the Blue Heron Academy
Gregory T. Lawton, D.N., D.C., M.Ac. (Diplomat)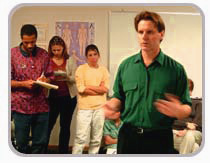 About Our Founder

Dr. Gregory T. Lawton founded the Blue Heron Academy of Healing Arts and Sciences in 1980. Dr. Lawton began his undergraduate training at Arizona State University in psychology and probation science. He is a graduate of the five year chiropractic program at the University of Health Sciences and a licensed Chiropractor in Michigan. He is a graduate of the four year naprapathic medicine program at the National College of Naprapathic Medicine and a licensed Naprapath in Illinois. Dr. Lawton is nationally board certified in Chiropractic, Radiology, Acupuncture (Diplomat), Martial Arts, and Physical Therapy.
Dr. Lawton began his martial art training at the age of five and he has trained in Aikido, Judo, Kenpo, Tai Chi Chuan, Pa Kua, Hsing Yi, Hap Do Sool, and Shorin Ryu. During his fifty-five years of martial arts training he trained in oriental healing arts including massage (Tui Na), oriental medicine philosophy, and oriental herbal medicine. He received post graduate training in acupuncture and Chinese medicine at the National College of Chiropractic, the New York School of Chiropractic and the International Academy of Medical Acupuncture (Diplomat). Dr. Lawton is a certified acupuncturist in Idaho.
Dr. Lawton is a health science writer and the author of over one hundred books, manuals and educational products ranging from health promotion and alternative medicine to - medical manual therapy, nutrition, herbal medicine, holistic health care, medical acupuncture, personal training, hydrotherapy, and naturopathy.