Holistic Health Practitioner l, ll and lll
Review and Print a Detailed Holistic Health Practitioner Brochure Here
Holistic Health Practitioner l - Diet and Nutrition, Clinical Nutrition, and Weight Management
Herbal Medicine, Clinical Nutrition and Diet & Weight Management are the foundational courses which are all included within the comprehensive curriculum of the Holistic Health Practitioner Program l.
Holistic health emphasizes the need to look at the whole person, including analysis of physical, nutritional, environmental, emotional, social, spiritual, and lifestyle values.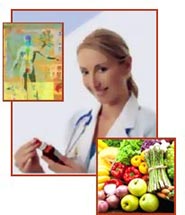 This all-inclusive program is ideal for health professionals who wish to incorporate holistic health principles into their practices and for all individuals who wish to incorporate these principles into their lives.
Holistic Health Practitioner ll - Asian Medicine
The Holistic Health Practitioner ll program includes training in medical and Practical Acupuncture, Chinese Massage (Tuina), Acupressure and Asian Bodywork, as well as, Chinese Herbal Medicine. In this program you will learn the philosophy and methods of contemporary Asian medicine.
Naturopathy and Natural Medicine - Holistic Health Practitioner III
Naturopathic physicians excel in their ability to diagnose a patient's highly individual experience of illness, to search deeply for the interrelationships between organ systems and to comprehend the impact of the patient's relationship with their environment, both physical and interpersonal.
In this program you will learn the principles and procedures of naturopathic and natural medicine as they apply to preventative health care and the treatment of illness through natural medicine.
Holistic Health Practitioner and the Naturopathic Natural Medicine Program
All three of these programs in holistic health care and natural medicine are designed to complement each other and they may be taken in any sequence.
Why Choose Blue Heron Academy?
Low-cost, fast-track state licensed educational programs.
Train while you keep your present job. Day and evening classes with flexible formats.
Financial Assistance: Many options and experienced staff to assist you.
Competency-based education. Breadth and depth of subject matter.
Small Class Size: At Blue Heron Academy, you won't get lost in the crowd! Our class sizes are small so you can get the personalized attention you deserve.
Quality instruction from licensed practitioners. Train in a clinical practice.
Career Placement: Experienced staff will help you find a job upon graduation.
Extensive hands-on training. Learn by doing, and learn what works.
Licensed by the Michigan Office of Secondary Education. Affiliation with hospitals and colleges.
Join thousands of successful graduates who have trained with us since 1980.