Become a Certified Personal Fitness Trainer in Four Months!
On-site, Hands-on Comprehensive Career Training. This program prepares you for work in the fitness and health promotion fields. This includes the health club and fitness center industry. You will become a Certified Personal Trainer (CPT) and be eligible to become a nationally board certified personal trainer.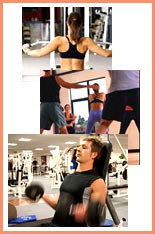 Master the basics: understand muscle physiology and body mechanics, fitness principles and assessment, strength and endurance training, and nutrition and weight management.
Get advanced training: develop fitness programs and dietary / exercise prescriptions, learn how to use machines, apply specificity training, and address injury prevention.
Widen your horizons: learn legal and business aspects, including client screening and consultations, record keeping, and designing corporate health / wellness programs.
Become versatile, and more employable: learn to deal with different customers, including athletes and people with special needs.
Personalize your training through specialized workouts in tai chi, Pilate's, yoga, etc.
The BHA difference: learn by doing
Our Personal Trainer Program, like all other programs at BHA, is hands-on. This means you will graduate with practical, real-world knowledge that you can put to immediate use. You will achieve this through a combination of lectures and intensive hands-on training, meant to demonstrate and reinforce what you are taught in class. This hands-on approach is just one of the things that sets BHA apart from other schools. At BHA, we teach what works!
Why Choose Blue Heron Academy?
Low-cost, fast-track state licensed educational programs.
Train while you keep your present job. Day and evening classes with flexible formats.
Financial Assistance: Many options and experienced staff to assist you.
Competency-based education. Breadth and depth of subject matter.
Small Class Size: At Blue Heron Academy, you won't get lost in the crowd! Our class sizes are small so you can get the personalized attention you deserve.
Quality instruction from licensed practitioners. Train in a clinical practice.
Career Placement: Experienced staff will help you find a job upon graduation.
Extensive hands-on training. Learn by doing, and learn what works.
Licensed by the Michigan Office of Secondary Education. Affiliation with hospitals and colleges.
Join thousands of successful graduates who have trained with us since 1980.