The Founder of the Blue Heron Academy
Gregory T. Lawton, D.N., D.C., D.Ac. (Diplomat)
Dr. Gregory T. Lawton founded the Blue Heron Academy of Healing Arts and Sciences in 1980 as a free school for women in transition and men and women seeking fulfillment in life through ethical service to humanity through the healing arts and sciences.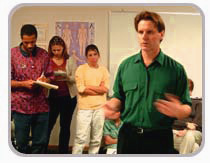 Dr. Lawton began his undergraduate training at Arizona State University in psychology and probation science. He is a graduate of the five year chiropractic program at the University of Health Sciences and a licensed Chiropractor in Michigan. He is a graduate of the four year naprapathic medicine program at the National College of Naprapathic Medicine and a licensed Naprapath in Illinois. Dr. Lawton is nationally board certified in Chiropractic, Radiology, Acupuncture (Diplomat), and Physical Therapy.
Dr. Gregory T. Lawton began his martial art training as a child and he has trained in Aikido, Judo, Kenpo, Tai Chi Chuan, Pa Kua, Hsing Yi, Hap Do Sool, and Shorin Ryu. Dr. Lawton has been awarded advanced rank in several martial arts and his highest belt rank is as an 9th Degree Black Belt in Kosho Ryu Kenpo Jujitsu. He was also awarded the rank of Yudansha Taigu. During his six decades of martial arts training he trained in oriental healing arts including massage (Tui Na), oriental medicine philosophy, and oriental herbal medicine. Dr. Lawton continues to teach the Asian martial arts at the Academy on a weekly basis.
Dr. Lawton received post graduate training in acupuncture and Chinese medicine at the National College of Chiropractic, the New York School of Chiropractic and the International Academy of Medical Acupuncture (Diplomat). Dr. Lawton is a certified acupuncturist in Idaho.
Dr. Gregory T. Lawton is a health science writer and the author of over one hundred books, manuals and educational products ranging from health promotion and alternative medicine to medical manual therapy, Scandinavian Mobilization Therapy, nutrition, herbal medicine, holistic health care, medical acupuncture, personal training, hydrotherapy, and naturopathy.
Dr. Gregory T. Lawton has been a member of the Bahá'í Faith since 1970. The three central principles of the Bahá'í Faith are the unity of God, the unity of religion, and the unity of humanity.