Student Registration Form
Get Started Today! Download and complete your registration form here. The registration form will allow you to enroll in any program at Blue Heron Academy. Once you have completed the form, please mail or fax it to our administrative office. One of our Admissions Advisors will contact you upon receipt of your application.
Low-Cost Fast-Track Career Training Programs
Day & Evening Classes for Working Adults
Small Class Sizes - You're Never Lost in the Crowd
Hands-On Scientific, Medically-Based Programs
Rewarding Positive Career & Life Changes
Instructions
Please select either the PDF or Word link to download the registration form. The PDF version is the recommended choice unless you specifically prefer Word. The Word version should be "saved" first to your computer and then viewed and printed using Microsoft Word.
PDF Student Registration Form "Word" Student Registration Form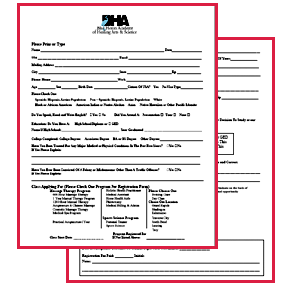 Why Choose Blue Heron Academy?
Our programs are designed for working adults. We offer both day and evening classes.
Thousands of successful graduates have trained with us since 1980.
Professional staff and instructors focused on helping you and your future.
At Blue Heron Academy, our small class sizes mean you won't get lost in the crowd.
You'll learn through a series of lectures and "hands-on" lab assignments.
Financial Assistance: Our financial manager can provide a wide range of easy, low cost payment options.
Breadth and depth of education, at affordable prices. Outstanding value for your money.
Our career counselors are committed to help you ensure that your education leads to a new and rewarding career.
Blue Heron Academy is licensed by the State of Michigan in Post Secondary Education.
Working together, we can improve your career and your life!